The Campaign
Roots and Wings
Bubolz members, visitors, staff, and friends have been fortunate that since opening in 1981, the "then" model-eske build and design of the preserve's nature center was not only a "green" and visual focal point for the preserve; but it also functioned well for the programming needs, school functions, and the daily visitors that the preserve hosted.
Like any asset, however, time has taken its toll. With the nature preserve's non-profit status accounting for not only the required updates—but also supporting the much needed expansion— has led us to this capital campaign, and reaching out to our amazing supporters and the Fox Valley community as a whole.
An Aging Asset
While running out of room is a good thing—that means we have amply utilized our current resource and continue to inspire new visitors—it has also caused constraints on the center's ability to support this increase with programming, events, and staff. The age of the nature center is also causing concern for the building's infrastructure including heating, plumbing, electrical, and general efficiency. With expanding water seepage from the earth shelter design, the constant maintenance costs the center more and more each year.
Evolving and Growing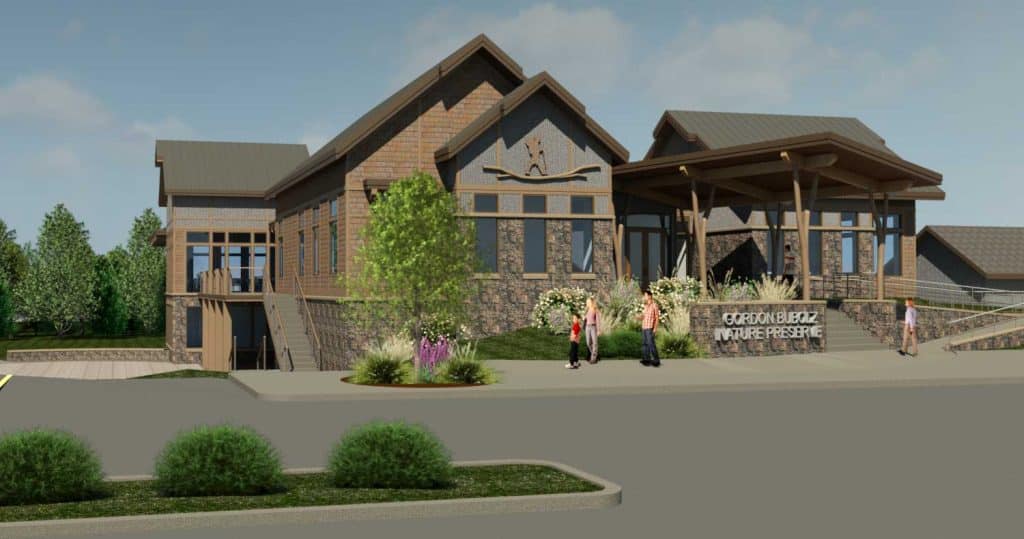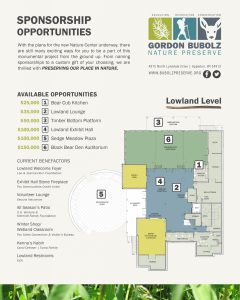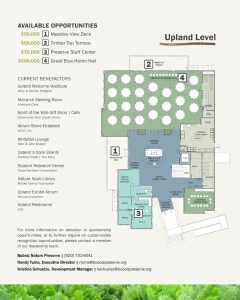 With a project budget of $5.5 million, our goal is to build an 18,000 square foot structure to support the growing and changing needs of our community. The new building will not only support program expansion for all ages and interests, but it will also improve the quality of the current recreational opportunities, such as skiing, snowshoeing, and bird watching, with areas designated to accommodate these activities. In addition, it will offer new educational and recreational opportunities for the community including:
A nature nook public library and student research center dedicated to environmental education.
Expanded exhibit spaces to interpret the preserve's flora, fauna, and diverse ecosystems.
A unique, environmentally-themed toddler play-and-learn area.
Indoor and outdoor classrooms designed to heighten the experience of environmental education.
A refreshed gift shop and an expanded coffee and snack shop.
In addition, there will also be larger spaces for people to interact, such as meeting rooms, patios, decks, and a large banquet facility for meetings and events. This will create a natural backdrop for family reunions, corporate meetings, and community gatherings, as well as diverse settings for wedding ceremonies, receptions, and photography. Expanding these spaces will not only allow the preserve to host a larger number of community members annually, but it will also offer a new revenue stream to offset annual operating budgets.
We Need Your Help
While there has been progress towards the $5.5 million fundraising goal through generous benefactors from throughout the Fox Valley, we still have a long way to go. Ground was broken in late Spring 2017, we are anxious to we look forward to celebrating this new community resource in early 2018. With that in mind, we still need your help to achieve our fundraising goals. As a nonprofit organization, maintaining a debt-free status is critical to our operating plans.
Timing is critical for this project's launch and perpetuity. We need your help
as we build momentum and move towards completion of the fund appeal.
Inspired For Change
We are so fortunate to live in a community that gives and advocates so purposefully. As a non-profit organization, we hope you'll join us in bringing this vision to life. Whether your gift is cash or a pledge (paid now or over time)—every little bit helps us make this vision a reality. We appreciate every gift, and are open to even the most creative gifts through "in-kind" work or materials, CDs (certificates of deposit), stocks, bonds, or paid-up life insurance policies. We are also happy to accommodate special gifts in memory or honor of loved ones, and have many sponsorship and "naming-rights" opportunities available.
For more information or to arrange a confidential conversation about your Bubolz Nature Preserve giving interests, please contact a member of our leadership team.
Bubolz Nature Preserve | 920.731.6041
Randy Tuma, Executive Director | rtuma@bubolzpreserve.org
Kristine Schuetze, Development Manager | kschuetze@bubolzpreserve.org